Donald Duckumentary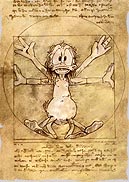 It's Donald Duck's
70th birthday
. Check out
Die Duckomenta
for some terrific artwork featuring The Duck as big time artists would have represented him. The presentation may well be an infringing one and may not be up for long. It is a "Duckumentary" of sorts, whether the display is authorized by Disney is unclear.
I like the
Joan Miro
best (big Miro fan here), the Mickey Mouse
van Gogh
, and Donald Duck
Mona Lisa
. I never really liked
Giacometti
and as a Duck it is no better.
The BBC has coverage of the birthday celebrations
here
and
here
.
See the Die Duckomenta art work
here
before the cease and desist letter arrives.
Thanks to
bIPlog
and
Copyfight
for pointing this out.