Sir Tim rakes 'em in, finally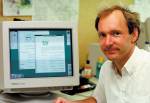 I'm sure that Sir Tim Berners-Lee, the man who invented hypertext and the web browser, and hence the Web itself, is not a poor man. But Tim did offer his ideas and inventions to all of us for free, which was key to the creation of a single worldwide network - the World Wide Web. It didn't have to work out that way, we all owe him big. Luckily, we don't have to pay him back ourselves, because Tim was awarded the first Millennium Technology Prize which comes with a $1,200,000 bonus. That's 1.2 million dollars. Don't spend it all in one place Tim, and congratulations.
Berners-Lee was also recently knighted. He is currently running the standard-setting
World Wide Web Consortium
from an office at
Massachusetts Institute of Technology
.
Article about Berners-Lee and patent law
here
. Other articles about Sir Tim and the award
here
and
here
.