Hillary Clinton co-sponsors the INDUCE Act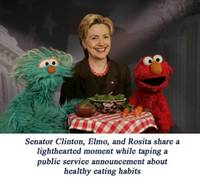 I am ashamed to learn that
Hillary Clinton
, my NY rep in the Senate, has become a co-sponsor of the INDUCE Act (now IICA). Hillary Clinton has received
$1,100,390
from Hollywood in the past.
This really feels like a blatant sell out to me, Hollywood/media money vs. technological innovation and consumer 'rights'. I wonder if Clinton even knows more than a few blurbs or soundbites about the bill? I really don't see how the INDUCE Act is supportable by an intellectually honest and informed person. I like Clinton for the most part, but after this I am much more skeptical of her motives in politics. Too bad.
There are currently nine co-sponsors for the INDUCE Act.
Learn more at
The Importance Of...
, Ernest Miller has been doing lots of wonderful posts about IICA there.