I'm Dazed and Confused by this libel claim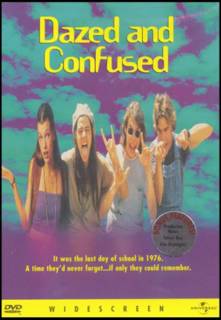 In the "coming of age" movie genre,
Dazed and Confused
(1993) is one of my favorites. Now three of the director/writer's (
Richard Linklater
) former highschool classmates (Bobby Wooderson, Andy Slater and Richard "Pink'' Floyd) are suing him, claiming that the characters were based on them and that they have suffered embarrassment and ridicule. The plaintiffs say the suit has been prompted by the film's 2002 release on DVD and it's growing cult popularity.
This is just sad, these plaintiffs should be ashamed of themselves for trying to scam their former friend, who it may be noted, is doing quite well in Hollywood. There is no way these plaintiffs are so embarrassed at their depiction in the film that they need to sue over 10 years after its release (that is assuming the characters were even based on them and not merely named after them).
And what are the damages here? I seriously doubt these plaintiffs can prove some sort of monetary damage. I also doubt a jury would be willing to give these guys punitive damages, it'll be tough to make the director look like a guy who deserves to be punished for his actions here. At first I couldn't even think of what theory of law this case would be based on. There's clearly no right of celebrity here because the friends are probably nobodies, and there are no apparent copyright or trademark issues. My guess was that case was based in libel, but there is typically a short statute of limitations on libel claims.
Then I saw this - "Robbins says the lawsuit was filed in Santa Fe because it has a longer statute of limitations than other states for claims of defamation and false light," and also because of a more favorable jury pool. This is disturbing since libel has First Amendment implications in that it limits or chills speech. The statute of limitations on Libel should be fairly short in order to protect speech. This suit was filed in New Mexico, I wonder what the plaintiffs connections to that jurisdiction are? They all still live in Texas, where they went to school with Linklater. I imagine that NM and TX must be within the same federal circuit, but that is ridiculous that the parties may have to litigate in a place nowhere near where either of them live.
I don't think there's much of a libel case here -
First
, the plaintiffs have to show that there has been a false statement that actually harms the their reputations, as opposed to being merely insulting or offensive.
Second
, the statements would have to be false statements of FACT. Statements that can be objectively proven true or false, not merely opinion or exaggeration.
Third
, the plaintiffs have to show that the characters/statements were "of and concerning" them. Meaning that people in their community who see the movie know it is about them (before they actually drew all this attention to the case). Just using similar names should not be enough.
Fourth
, there may need to be some element of fault on the part of the defendant. Did he purposely ignore the facts and misrepresented them?
Here are some great quotes from
this article
in the Albuquerque Journal:
One plaintiff, Bobby Wooderson, for example, recently checked his teenage son into Harvard University, and when the boy's classmates learned Wooderson was the basis for the pot-smoking "David Wooderson" in "Dazed and Confused," "all the kids there wanted to do was smoke pot with him," said Santa Fe attorney Bill Robins III, who filed the suit.
...
Linklater, who wrote and directed "Dazed and Confused," only slightly modified the three plaintiffs' names...Plaintiff Bobby Wooderson is named David Wooderson in the movie; plaintiff Andy Slater is named Ron Slater in the movie; and plaintiff Richard "Pink" Floyd is named Randall "Pink" Floyd in the movie.
...
"Dazed and Confused" depicts Wooderson - who was played by actor Matthew McConaughey - as an "aging high school wannabe with the bad ass car, who despite graduating years ago, can't leave his high school 'daze' behind him," reads the suit.
...
The Wooderson character also says in the movie, "that's what I love about these high school girls; I get older and they stay the same age." Robins said the real-life Wooderson has never said any quote of that nature.
...
Slater is depicted as the 'school's in-house stoner and medicine chest,' '' reads the suit.
...
Richard "Pink" Floyd, is depicted in "Dazed and Confused," as "the school's starting quarterback, supposedly struggling with the choice between signing a pledge to not use drugs and alcohol or hanging out with his loser friends,' '' reads the suit. [Sounds to me like the plaintiffs are now Linklater's loser former friends.]
Despite the fact that Linklater has said in interviews that "Dazed and Confused" was fairly autobiographical, there's little chance this case will go anywhere if it is based in libel, partly because no reasonable person who saw "Dazed and Confused" would assume that the depictions in it are based on actual events, it's a work of fiction, a movie. These guys are wasting everyone's money with this suit and not only that, they will actually draw national attention to the embarrassing fact that they may have been cool pot smoking rockers in the 70's that were so much fun that a movie was made based on the good times they had. Man that really is embarrassing, I feel so sorry for them!
If these guys can get past the summary judgment stage then they will be able to force a big settlement from Linklater because defamation trials cost quite a lot. Hopefully this frivolous suit gets booted out of court at the pleadings stage. Well, there's a lesson for directors/writers - don't use names that sound like people you knew even if you're basing a character on them...ever. Once you leave your friends behind in that small Texas town and move on to Hollywood, they'll be coming for your hard earned paychecks if they have any shot.
Well, I never knew the people in the movie were based on these guys, now I do. I also would've thought they were probably cool if I had known it, but now that this comes up I think they are total wankers. Way to go guys, I hope you wasted plenty hiring your lawyer.
This is a
great article
on the situation, CNN article
here
, another good one from Texas
here
.
Here are the most up to date news articles on "Dazed and Confused,"
via Google News
.
More on libel at the
Media Law Resource Center
.
Another fantastic movie by
Richard Linklater
is
Waking Life
. It's about
lucid dreaming
, so it's strange. Others I either liked less or haven't seen are
School of Rock
(didn't see) and
Slacker
(although intriguing, very boring). And soon to be released is The Smoker, The Bad News Bears, and The Scanner Darkly.
I just remembered that Linklater was/is also involved in a controversy over the School of Rock movie (featuring Jack Black) because someone who started a rock music school for kids was claiming the script was based on their life. I can't find anything on that with a quick search though.